Don't worry
Matthew 6:25-34
Sermon on the Mount – Part 16
Matthew 6:25-34 ~ February 11, 2018
---
Last Monday, I sent an email asking folks to help me with today's sermon by answering one question: What are two things you tend to worry about? You can imagine that I got many different answers, but most tended to fall within six broad categories:
Family concerns and issues
Money
Health-related issues
Future security
Salvation of family members
Other spiritual issues
As we think about the subject of worry, most of us would agree that worry is useless and ineffective…and yet it is so easy to worry…or should we say it is so difficult not to worry? Regardless, most of us realize that worry is unproductive.
This morning, we are coming to another portion of the Sermon on the Mount that is quite familiar to many of us even as some folks may be seeing it for the first time. I want to again offer a caution. We must be extremely careful with the things we're familiar with in scripture. If we're not, we may substitute our assumptions or faulty memories for what the text really says.
Let's go ahead and look at today's passage.
Matthew 6:25–34 (NIV84)
25 "Therefore I tell you, do not worry about your life, what you will eat or drink; or about your body, what you will wear. Is not life more important than food, and the body more important than clothes? 26 Look at the birds of the air; they do not sow or reap or store away in barns, and yet your heavenly Father feeds them. Are you not much more valuable than they? 27 Who of you by worrying can add a single hour to his life?
28 "And why do you worry about clothes? See how the lilies of the field grow. They do not labor or spin. 29 Yet I tell you that not even Solomon in all his splendor was dressed like one of these. 30 If that is how God clothes the grass of the field, which is here today and tomorrow is thrown into the fire, will he not much more clothe you, O you of little faith? 31 So do not worry, saying, 'What shall we eat?' or 'What shall we drink?' or 'What shall we wear?' 32 For the pagans run after all these things, and your heavenly Father knows that you need them. 33 But seek first his kingdom and his righteousness, and all these things will be given to you as well. 34 Therefore do not worry about tomorrow, for tomorrow will worry about itself. Each day has enough trouble of its own.
---
As we start digging in, no doubt you notice some repetition. When we're studying Scripture, repeated words or ideas are important because repetition is a form of emphasis.
The word worry is used six times and the phrase do not worry is used three times. They are obviously important to understanding this passage. But we cannot begin with the repetition. Out of the 232 words in these 10 verses, we need to start with the first one, therefore.
A good rule of thumb to keep in mind is this, when you come to the word, therefore, ask yourself what it's there for. At the risk of boring you with a vocabulary lesson, therefore is an adverb meaning "as a result of" and in the context of a sentence, therefore connects the idea or ideas coming after it with the idea or ideas that came before it.
So, even though the admonition, "do not worry" comes in the first sentence, we must first look back because of the word, therefore. If we don't, we can easily take this passage out of its original context and try to make it say and mean things it doesn't say and mean.
This entire teaching about "do not worry" is built on Jesus' assertion that it's impossible to serve both God and money. Before he uttered those words, he laid out three scenarios designed to show his followers that the easy and obvious choice is to serve God instead of serving money. After doing that and telling his followers "you can't serve both God and money" he addresses what may have been an unspoken concern or maybe a misunderstanding about his teaching: if we focus on God to the exclusion of money (since you can't serve both), how will we provide for ourselves and our families?
That brings us to this current passage where Jesus admonishes his followers, do not worry. Because this teaching is connected to the impossibility of serving both God and money, I want you to remember this, I need to prioritize God's will over my wallet. Talk about a test! If you and I cannot prioritize God's will over our wallets, then we are obviously serving money instead of serving God! I realize that is direct and sounds harsh, but it's the truth.
Now, let's unpack Jesus' words. First, I'll sum up this section in two statements. Then, we'll look a little more deeply at each one.
Since we cannot serve both God and money…
We don't need to worry about our basic needs being met today or tomorrow.
Instead of worrying, we need to seek God's will.
#1
Jesus said his followers don't need to worry about what they're going to eat, drink, or wear. They don't need to worry about it today and they don't need to worry about it tomorrow.
This may sound irrelevant to some of us here today because we have food to eat, water to drink, and clothes to wear. But the truth is that these things are a concern for many people in our area…and perhaps for some folks in our church family. A need is not nonexistent just because we don't personally feel it.
Think about it. Why does the Frostburg Summer Lunchbox program exist? Why does the backpack program exist in our middle schools in Allegany County? These programs and others exist because there are children in our communities who will not eat without such programs.
We live in an area with a relatively high poverty rate. According to US Census figures, approximately 17.2% of Allegany County residents live in poverty. That is nearly 1 in 6 people. In Garrett County, it's 12.8% or nearly 1 in 8 people. In Bedford County, it's 13.7% or just over 1 in 7 people. Somerset County is 14.1%, just at 1in 7 people. Mineral County is 15.6%, that is just over 1 in 6 people.
The national poverty rate is 12.7 % which means every county in our area has a higher poverty rate than the United States. And since God's word and the gospel translate into every culture and every community, I can say with confidence that God's people don't need to worry about their basic needs being met.
How can I say that? I can say it because God's word says it. Now, don't misunderstand. I'm not saying that folks cannot be concerned; I'm saying they should not worry. Believe it or not, there is a difference. Understanding the difference is as easy as picturing a circle and picturing a line (a ray).
Worry has a starting point and then moves on in a circle which means it never goes anywhere and it hashes over the problem again and again and again without doing anything about it.
A ray, on the other hand, has a starting point and moves forward. It moves away from the starting point. Let me explain it this way in case you're not visual.
| | |
| --- | --- |
| Worry[1] | Concern |
| Problem-oriented | Solution-oriented |
| Often paralyzing | Active |
| Driven by fear | Driven by love |
| Doesn't have a goal | Has a goal to help |
| Overwhelms faith with doubt | Overcomes doubt with faith |
What in the world does this have to with not worrying about basic needs? Everything! Individuals with need don't have to worry because God knows what they need and has made provision to meet their needs—just like he feeds the birds and clothes the flowers. In fact, because people are more important than birds and flowers, they can rest assured that their heavenly father will take care of them?
How will he take care of them? I don't know, he chooses to work in more ways than I can count, but remember the word, therefore? Remember that it connects the things that come before it and after it? If we back up a little farther in Matthew 6, we see two ways that needs are addressed. First, in verse 3, we see that sometimes God uses his family to give to the needy. Jesus said to his followers, "when you give to the needy…" He expected that we would.
Then in verse 11, Jesus instructed his followers to pray that God would provide their daily bread—their basic needs.
Let me give you a little lesson here on biblical interpretation and context: Sometimes chapter and verse divisions get in the way of understanding Scripture. We come to new chapters and new verses and often think that we're onto new thoughts and ideas. Sometimes this is true and sometimes it's not. Sometimes, all those numbers get in the way.
By the way, though the section headings in our Bibles are often helpful, they can get in the way also.
The Sermon on the Mount was one message Jesus delivered to his followers in one setting. It was not delivered in 22 parts like we're presenting it in this series. So, even though different topics are addressed in the sermon, they all are connected. The section we're focusing on this morning is a great illustration of that.
It's about worrying …but not just worry about anything.
It's about worry over life's basic needs.
Jesus has already taught about needs – giving to the needy and praying for our needs.
That concludes the mini-lesson on biblical interpretation and context so let's get back to the point.
God's people don't need to worry about the basic needs of life. They don't need to be so focused on their problems that they're paralyzed by fear and overcome by doubt.
They shouldn't worry, but they should be concerned, and that concern should move them to act even as they pray for God to meet their needs. They are not free to sit back and wait for the provision to magically appear. They must be actively engaged in the process.
Do you get what I'm saying? Since God knows our needs, we don't need to worry. In fact, before we move on, we need to note that not worrying isn't merely a suggestion, it's a command—DO NOT WORRY. It's a command because worry is really a failure to believe in God's goodness and mercy.[2]
#2
Now, in what seems like an odd turn, Jesus says instead of worrying, his followers are to seek first God's kingdom and righteousness. Our priority is not to be the things we would like to have or even the things we are sure we need, but God's kingdom and righteousness. First does not mean "first in time" but "of first importance"; God's kingdom is not to be one among many things competing for attention, but that which comes first before anything and everything else.[3]
God's kingdom and righteousness point to knowing and doing the will of God. As Christ followers, we have a responsibility to know and understand what is expected of us…and then doing it. What does that look like? Let me jump ahead to part of the text for the last message in this series. It's a story many of us know as the wise and foolish builders. I want to read it to you from the Message translation: "These words I speak to you are not incidental additions to your life, homeowner improvements to your standard of living. They are foundational words, words to build a life on. If you work these words into your life, you are like a smart carpenter who built his house on solid rock. Rain poured down, the river flooded, a tornado hit—but nothing moved that house. It was fixed to the rock.
"But if you just use my words in Bible studies and don't work them into your life, you are like a stupid carpenter who built his house on the sandy beach. When a storm rolled in and the waves came up, it collapsed like a house of cards" (Matthew 7:24-27).
How do we seek God's kingdom and righteousness first?
We build our lives on the foundation of God's word.
We work the truths of this book into our lives.
We live what it says…not like hypocrites—not like actors playing a part.
But like people whose lives have been transformed by the gospel from the inside out.
People's whose lives become living testimonies of God's goodness and grace.
People who live the truths of this book not because they have something to prove to others but because they are moved by love for a Savior who died for them and so they want to live to please him and make him famous in a such a way that whets the appetites of others who are hungry and thirsty for the eternal without knowing what they're hungry and thirsty for.
That's how we seek first God's kingdom and righteousness…and we do it one day at a time without worrying today or tomorrow because we know we serve a God who knows our needs and will meet our needs. Amen?
Before I wrap this up, I want to circle back to the question many of you answered for me this week – what are two things you tend to worry about?
I don't want you to walk away from this message thinking that God doesn't care about things that can't be classified as basic needs. God cares about every aspect of life. Let me remind you though, that in every area of life, worry focuses on the problem and allows fear and doubt to hold sway when assurance and confidence in God should rule the day.
In today's passage, Jesus used the phrase, "O you of little faith." This is a phrase that is only ever used of believers in the New Testament. So, let me ask you two pointed questions and then offer a suggestion.
Questions: What does your worry say about your faith in God? What does it say about what you really believe about God's knowledge, ability, and love for you?
Suggestion: When you begin to worry, stop and read and pray this passage. (Better yet, memorize it.)
Don't worry. Those are Jesus' words, not mine.
If you lack basic necessities, (1) do what you can to meet to meet your own needs, (2) ask God to supply them… (3) and talk to me. Part of being God's family is caring for each other. Just understand that we can't do anything to help if we don't know your need. Don't worry, God has promised to care for you.
Prayer
---
[1] Adapted from "Worry vs. Concern: 8 Characteristics of Each," by Barb Raveling, September 24, 2014, https://barbraveling.com/2014/09/04/worry-vs-concern-8-characteristics-of-each/ and "Worry is problem oriented; Concern is solution oriented, Ascent Advising, http://www.ascentadvising.com/?p=58, each accessed February 8, 2018.
[2] Blomberg, C. (1992). Matthew (Vol. 22, p. 126). Nashville: Broadman & Holman Publishers.
[3] Morris, L. (1992). The Gospel according to Matthew (p. 161). Grand Rapids, MI; Leicester, England: W.B. Eerdmans; Inter-Varsity Press
Series Information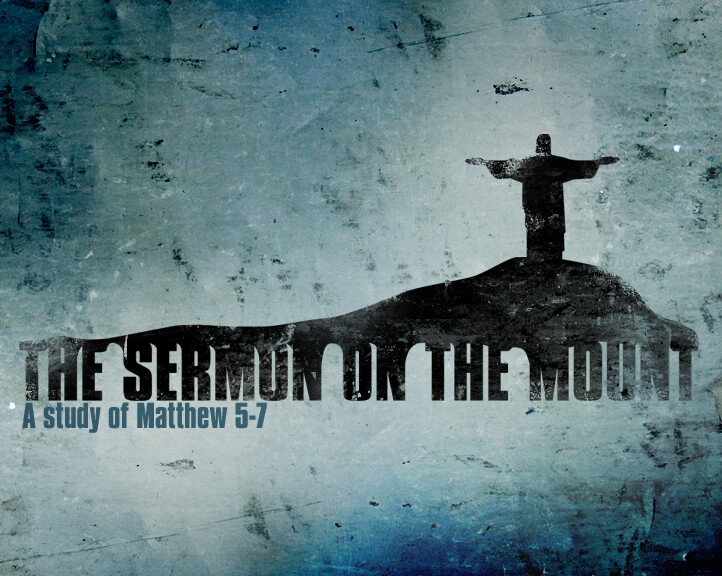 Over the course of three chapters in Matthew (5-7), we read some of Jesus' most challenging teaching. This series will exam this "Sermon on the Mount" section by section to see what we can learn.