Togther: Invite People
Acts 15:1-35
Back to Church (Introduction)
September 8, 2019
Next week, we are participating in a national event called Back to Church Sunday. It is intended to motivate us to invite folks to church…not just any folks, though. The point of Back to Church Sunday is for us to invite folks who used to attend church (any church), but who don't attend anymore.
There are lots of reasons people no longer attend church:
Some were pushed away by the church.
Some were pushed away by people in the church.
Some were lured away.
Some intentionally walked away.
Some just got out of the habit of going.
Some were disillusioned when God didn't seem to come through for them.
No matter what a person's story might be, we believe the reason they left doesn't have to be big enough to keep them away forever. We believe it's our responsibility to open the door and invite them to come back home.
Research shows that 47% of people in the United States are willing to visit a church as long as it's with a friend. That's 110 million people!
Obviously, we don't have that many people in our area, but let me show you a picture (bounded Frostburg area). How many people do you think live within this bounded area?
According to the Allegany County government, there are approximately 12,196 people who live in that area.
It doesn't include Mt. Savage, LaVale, Cumberland, Flinstone, Finzel, Grantsville, Springs, Meyersdale, Midland, Coney, Barton, Westernport, Bel Air, Rawlings, or other places some of you may live.
If we could say that 50% of those folks are in church on a given Sunday (and I think that number is way high), then 6,098 are not in church.
Statistically, 2866 of those folks would be willing to visit church with a friend. I wonder how many of them have never been invited.
If you've been around Trinity for any length of time, you may have heard me say that I don't think our church is big enough. I don't say that because I dream of pastoring a megachurch. I say it because if one person in our area doesn't know Jesus Christ as savior, then our job isn't finished, and our church isn't big enough. Given the numbers in this bounded area and all the places I mentioned a few minutes ago, I'd say our church isn't anywhere near big enough…and neither are all the other churches in our area.
This is why we participate in Back to Church Sunday! This is why I want you to constantly invite people to come to church with you!
Most people who aren't in church don't hate church, hate Christians, or hate God. Most people aren't in church because it never crosses their minds to go to church. We can change that by inviting them!
Now listen, when people come back to church (or come to church for the first time), they're going to bring some baggage with them. (I know this because we all have baggage of our own.)
Folks are welcome at Trinity…and so is their baggage!
There will be no demands for them to get their lives together before they walk through the doors.

Why?
Because a church isn't a trophy case for perfect people, it's a hospital for sin-sick people.

There is no need for people to pretend their baggage doesn't exist…especially if they're just gonna pick it up again when they walk out the door.
Regardless of people's circumstances…regardless of their baggage…we're going to treat them all the same way…

Regardless of their baggage, we will welcome them.
Regardless of their baggage, we will love them.
Regardless of their baggage, we will accept them.
Regardless of their baggage, we will show grace to them.
Regardless of their baggage, we will be a place of healing for them.

Why?
Because Trinity is a welcoming place of love and acceptance where people can find grace and healing as they are reunited with God and his family.
Now, let's turn to Scripture to see why we want to treat everyone that way. Open your Bible or your app to Acts chapter 15. (If you're using the Bible's from the pew, you'll find it on page 783.)
If you got a preview email about this morning's message, I asked you to read Acts 15:1-35. We're not going to read that entire passage now. I'm going to summarize most of the passage, and we'll read two sections together.
I also asked you to bring a hula hoop with you. Did anyone do that besides me? Keep them close. I'll use them as an illustration in a few minutes.
Acts is a history text that chronicles the birth and early life of the Christian church as well as the spread of the Christian faith, primarily through the missionary journeys of the Apostle Paul.
Acts was written by Luke, a Gentile doctor who was an early Christian convert.
He wrote the Gospel of Luke and Acts as a two-volume set.
He tells us at the beginning of the Gospel of Luke that he thoroughly investigated his subject matter so that he could write an orderly account of it.
As we come to Acts 15, Paul's first missionary had come to an end. He and his partner Barnabas had returned to the city of Antioch where their journey started. While they were there, some people came into the church and started teaching that non-Jewish people who wanted to become Christians could not do so without being circumcised. (If you don't mind, I'll skip the explanation of circumcision!)
The people teaching this would have been Jewish folks who came to believe in Christ as Savior but were still convinced of the need to live according to what we know today as the Old Testament law. They were convinced of that requirement because that's all they'd been taught and known their entire lives. And since they couldn't imagine pleasing God any other way, it seemed only right to them that all people—Jewish or not—should have to adhere to the requirements of the Law.
Paul, who was thoroughly educated and trained in Jewish law, and Barnabas sharply disagreed with this teaching. The leaders of the church in Antioch sent the pair and some others to Jerusalem to get guidance from the church leaders there.
Paul told the leaders about all the things God had done as he and Barnabas traveled and preached the gospel. Some of the folks in Jerusalem still argued that non-Jewish people should keep the law and be circumcised. The Apostle Peter agreed with Paul. Let's read what he had to say.
Acts 15:7-11 (NIV) – 7 After much discussion, Peter got up and addressed them: "Brothers, you know that some time ago God made a choice among you that the Gentiles might hear from my lips the message of the gospel and believe. 8 God, who knows the heart, showed that he accepted them by giving the Holy Spirit to them, just as he did to us. 9 He did not discriminate between us and them, for he purified their hearts by faith. 10 Now then, why do you try to test God by putting on the necks of Gentiles a yoke that neither we nor our ancestors have been able to bear? 11 No! We believe it is through the grace of our Lord Jesus that we are saved, just as they are."
Paul and Barnabas then described all the miracles they experienced on their journey. Then James, Jesus' half-brother, decided the matter. Let's look at his words in Acts 15:19-21 (NIV) – 19 "It is my judgment, therefore, that we should not make it difficult for the Gentiles who are turning to God. 20 Instead we should write to them, telling them to abstain from food polluted by idols, from sexual immorality, from the meat of strangled animals and from blood. 21 For the law of Moses has been preached in every city from the earliest times and is read in the synagogues on every Sabbath." Peter addressed some cultural issues but concluded that the Old Testament law of circumcision was not binding on new Christians.
Paul and Barnabas delivered Peter's a letter to the church in Antioch and the people there were glad because of its encouraging message.
So, what does that have to do with Back to Church Sunday, inviting people to church, and the baggage people may bring with them?
I want to focus on two things here—one statement from Peter and one from James—and apply them to us.
First, regarding the Old Testament law, Peter said, "So why are you…challenging God by burdening the Gentile believers with a yoke that neither we nor our ancestors were able to bear? We believe that we are all saved the same way, by the undeserved grace of the Lord Jesus."
Second, Peter said, "We should not make it difficult for the Gentiles who are turning to God."
Let's take these two ideas together and hold up our hula hoops. Do you know what Peter and James were saying? They were saying that people are saved by God's grace and that we have no business making them jump through hoops to prove their worthiness and salvation to us. When we do such things, we make it hard for people to come to Jesus, and that's wrong!
I'm not the author of salvation, and neither are you; God is…and he doesn't want it to be hard for people to turn to Jesus.
Hear me now. Turning to Jesus can be very difficult, indeed. It's not a decision to be made lightly. However, we are not free to add difficulties that are not biblical.
Coming to know Christ as savior is one thing.
Learning to live the way God wants you to live is something entirely different.
One takes a moment. The other takes a lifetime.
We don't have 110 million people in our area, but we do have tens of thousands, and most of them don't attend a church which means most of them don't know Jesus as savior. I'm talking about our family members, neighbors, friends, co-workers, classmates, and teammates. This is a job for all of us, no matter our age.
Let me leave you with Paul's words to the Christians in Rome and then two questions:
"Everyone who calls on the name of the Lord will be saved."
But how can they call on him to save them unless they believe in him? And how can they believe in him if they have never heard about him? And how can they hear about him unless someone tells them? And how will anyone go and tell them without being sent?" (Romans 10:13-15a, NLT)
Now, you've been sent so let me ask you two final questions: Who do you know who needs to be invited to church? If you don't invite them, who will?
Let me pray for you.
Series Information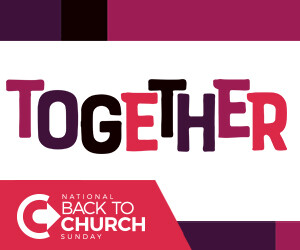 How does the idea of togetherness affect our lives and our impact in the world?