Dream Big
Joshua 6:1-5
Draw the Circle – Part 2 – Dream Big
Joshua 6:1-5 ~ April 15, 2018
Introduction
Henry Wallace was Vice President under FDR from 1941-1945. Before that, he served as the Secretary of Agriculture.
He grew up in Iowa and as a child walked through the fields learning about plants and collecting corn kernels. He separated out the largest kernels and planted them the next year. By the age of 10, he was experimenting with plant breeding. At 15, he started applying statistics to his work and developed newer and newer seed hybrids.
In 1926, he started the Hi-Bred Corn Company which later became Pioneer Hi-Bred which was bought by DuPont in 1999 for $10 billion dollars.
I told you about Henry Wallace so that I could tell you about Norman Borlaug. In his lifetime, he was awarded the Nobel Peace Prize, the Presidential Medal of Freedom, and the Congressional Gold Medal along with numerous other honors.
Norman was inspired by Henry Wallace who had driven to Mexico from Washington DC in a 1940 Plymouth after a new joint US-Mexican agricultural initiative was started. Borlaug became part of the research team in Mexico which studied maize and wheat production. Through his work, he developed high-yielding strains of wheat for Mexico, Pakistan, and India that are credited with saving over 1 billion people from starving.
Norman Borlaug was influenced by Henry Wallace who was once a little boy collecting seeds on an Iowa farm. But the story doesn't stop there.
I told you about Henry Wallace and Norman Borlaug, so I could tell you about George Washington Carver—the famed botanist and inventor who discovered over 200 uses for the peanut.
He was born into slavery in the early to mid-1860s in Diamond, Missouri. He was accepted at Highland University in Highland Kansas and then rejected because of his race when he showed up to register. He was the first black student at the Iowa State Agricultural College and later became its first black faculty member.
One of his professors and eventual colleagues was Henry Cantwell Wallace, father of Henry Agard Wallace who became Vice President of the United States.
When Henry Wallace took walks as a child and collected corn kernels and learned about plants, he was walking with, talking to, and learning from George Washington Carver. Later in life, Wallace would say, "If not for those walks, if not for Dr. Carver, I never would have done it."
Of all the things he accomplished in his life, maybe walking with and influencing a 6-year old boy is one of the most important things George Washington Carver ever did.
How big are your dreams? Henry Wallace started what became a $10 billion company. Norman Borlaug won the Nobel Prize. George Washington Carver discovered over 200 uses for the peanut.
Have you ever had a dream? Most of y'all know about my dream—which hasn't come to fruition yet—to own my own funeral home. But what about you? Have you ever had a dream? I don't mean a fanciful story that unfolds while you're sleeping. I mean a picture of the future that is different and better.
Have you ever dreamed about your life? Your career? Your family? Your hobbies? Your church?
This morning, I want to talk about dreaming…and dreaming big. But I don't want to talk about your best ideas or my best ideas for the future. I want to talk about God's ideas.
Some of you think dreaming is for kids or for lazy bums. But that's not true. Dreaming is for all of us! I love these words from the prophet Joel which Peter quoted in his Pentecost sermon: "I will pour out my Spirit on every kind of people: Your sons will prophesy, also your daughters; Your young men will see visions, your old men dream dreams. When the time comes, I'll pour out my Spirit on those who serve me, men and women both, and they'll prophesy" (Acts 2:17-18).
Dreaming is for all of us…because God wants to give us dreams about what He wants to do.
You might not start a $10 billion company…or you might.
You might not save a billion people from starvation…or you might.
You might not discover 200 uses for a plant…or you might.
But you can influence a child, or a friend, or a neighbor, or a co-worker…if you'll allow God to plant his dream(s) in your heart, mind, and spirit.
That's exactly what happened with the people of Israel! God gave them a dream. It started with Abraham. He didn't ask for the dream, but God gave it to him anyway. Part of that dream was fulfilled in the days of Joshua. Let's look at part of his story. Please turn to Joshua 6. If you're not used to finding something in the Bible, you can find it on page 154 in the bible in the pews. You can also find it in the events section of the Bible app.
While we're reading, think about this: Be willing to do whatever it takes to follow God's dream.
Explanation
Joshua 6:1–5 (NIV84) p. 154
1 Now Jericho was tightly shut up because of the Israelites. No one went out and no one came in.
2 Then the Lord said to Joshua, "See, I have delivered Jericho into your hands, along with its king and its fighting men. 3 March around the city once with all the armed men. Do this for six days. 4 Have seven priests carry trumpets of rams' horns in front of the ark. On the seventh day, march around the city seven times, with the priests blowing the trumpets. 5 When you hear them sound a long blast on the trumpets, have all the people give a loud shout; then the wall of the city will collapse and the people will go up, every man straight in."
God wants to plant the seeds of his dreams in our hearts, minds, and spirits.

Students – What are God's dreams for you? Your school? Your career? Your interests? Your involvement in his mission? Your church?
Adults – What are God's dreams for you? For your job? For your interests? Your home? Your involvement in his mission? Your church?
Parents – What are God's dreams for your family? For your children? What if His dreams don't match your dreams? Are you willing to give up yours to see His fulfilled? Your church?
Senior adults – I'm not defining who fits into this group, I'll let you decide. What are God's dreams for your later years? You know he's not finished with you, right? What are his dreams for you now? For your interests and abilities? For your church?
God planted the dream of the Promised Land in generation after generation of his people.

God plants the seeds, but we must tend the garden.

Once the seed is planted, there's still much work to be done…and much of it is our responsibility.
It must be watered, weeded, and cultivated.
We are not passive recipients of God's dreams. We are active participants. He chooses to partner with us to bring about his plans.
God prepared the Promised Land for his people, but they had to make the journey to get there. The followed Moses and then Joshua.

God's directions sometimes don't seem to make a lick of sense.

When Israel made it to the Promised Land, they had to fight battles to take possession of it.
God's battle plan for Jericho was unconventional at best and laughable at worst.

Joshua and all the armed men were to march around the city once a day for six days. (Okay, maybe we can understand this as a show of force.)
March again on the seventh day, but this time take seven priests with trumpets and the ark of God.

March around the city seven times with the priests blowing the trumpets.
When the priests make a final long blast on the trumpets, have the entire army shout.
The city wall will fall, and the army will be able to march right in.

Does anyone else read that and think, "Yeah, right!"?
Such circumstances should not surprise us.

The prophet Isaiah wrote, "For my thoughts are not your thoughts, neither are your ways my ways," declares the Lord (Isaiah 55:8, NIV).
Jesus said if you want to be first you must become last; if you want to live, you must die.

Sometimes, God's directions just don't seem to make sense.
And yet, He knows exactly what He's doing.
Ours isn't to argue but to obey.
Application
Listen, if you don't remember anything else from this sermon, I want you to remember this: We must be willing to do whatever it takes to follow God's dream for us.
Here are few things we need to understand about doing whatever it takes.
God will not ask us to do something that contradicts his word.
God is more concerned with our growth and obedience than with our comfort and egos.
If we think of change as a four-letter word, we're going to have a hard time with God's dreams.
God-sized dreams are beyond our resources and our ability to bring them to pass. This gives God the opportunity to show up and show off His power!
Discerning God's Dreams for Us
It might start with praying this simple prayer, "God, what do you want me to dream?"
It might start with paying attention to that nagging idea you've never been able to get out of your head.
It might start with the topic that tugs at your spirit and moves you to tears every time it comes up.
Homework (This might take a day, a week, a month, or a year.)
Dare to ask God about his dream for your life. (This is a huge step for some of you…and God understands. It's no coincidence that you are hearing these words right now. It's God's time!)
Write it down and begin to think, dream, and envision what it would be like if that dream came to pass.
Commit yourself to tending the garden when God plants the seed.
Share your dream with someone you can trust.
Special Music – Dream for You
Prayer
Series Information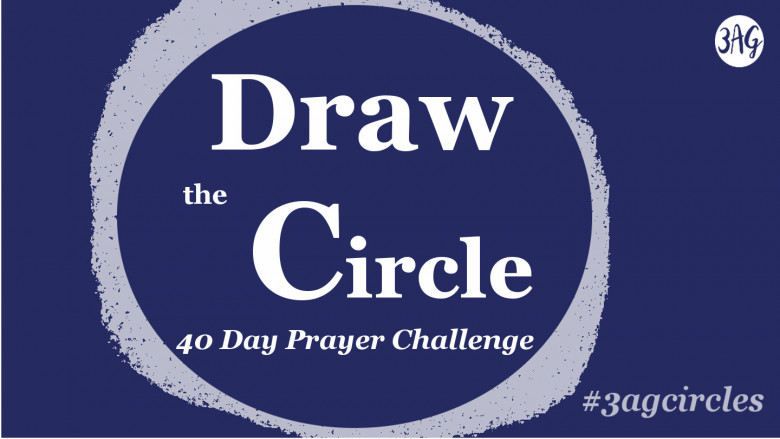 This series is based on Mark Batterson's book, Draw the Circe: The 40 Day Prayer Challenge.
We are embarking on a 40-day journey to develop the habit of prayer that will continue on day 41 and beyond.