Ask. Seek. Knock.
Matthew 7:7-12
Matthew 7:7–12 (NIV84) Pg. 685 in your pew Bibles
7 "Ask and it will be given to you; seek and you will find; knock and the door will be opened to you. 8 For everyone who asks receives; he who seeks finds; and to him who knocks, the door will be opened.
9 "Which of you, if his son asks for bread, will give him a stone? 10 Or if he asks for a fish, will give him a snake? 11 If you, then, though you are evil, know how to give good gifts to your children, how much more will your Father in heaven give good gifts to those who ask him! 12 So in everything, do to others what you would have them do to you, for this sums up the Law and the Prophets.
Let's look at those first two verses in The Message version of the Bible.
Matthew 7:7-12 The Message (MSG)
7-11 "Don't bargain with God. Be direct. Ask for what you need. This isn't a cat-and-mouse, hide-and-seek game we're in.
Prayer sounds very simple when Jesus teaches about it. Just Ask…, just seek…, just knock…, and you will be answered. But it's not all that simple. John Stott gives us three points that show there's more effort involved than we might imagine.
First, prayer presupposes knowledge. Since God gives gifts only if they accord with his will, we have to take pains to discover his will—by Scripture meditation and by the exercise of a Christian mind schooled by Scripture meditation. (You have to know God's word to be able to know God, to know His will, and to know how to live for Him).
Secondly, prayer presupposes faith. It is one thing to know God's will; it is another to humble ourselves before him and express our confidence that he is able to cause his will to be done. (When you come to God, asking, seeking, and knocking, do you have faith that God is able to and will do everything He tells us in His word He will do? Do you have faith that He will fulfill His promises? Do you have faith that God will provide what you need? Do you have faith that God's will is best for your life?)
Thirdly, prayer presupposes desire. We may know God's will and believe he can perform it, and still not desire it. Prayer is the chief means God has ordained by which to express our deepest desires. This is the reason why the 'ask—seek—knock' commands are in the present imperative and in an ascending scale to challenge our perseverance. (It's easy to ask. It's a little harder to have faith that God will do what He says He will do. It's much harder to desire God's will, even if what we asked for and have faith He will do- doesn't happen the way we expected or wanted because that's not God's will.
All of this seems very simple. Ask, seek, and knock.
We all know what it means to ask for something. We might even be really good at asking for something. If you have a child, you know what it's like to be asked for something.
Olivia asks questions constantly these days. Many times, those questions involve a request for something. Anytime there's a commercial on TV advertising a toy she says, can I have that? She also asks me to do things for her on a regular basis. Get her something to eat or drink. Help her find a toy that's right in front of her face, but she just cannot find without help. And recently she's started asking me to sing different songs for her. Sometimes they're songs she's learned in Sunday School and other times she'll ask me to sing a song from a movie. If I don't do it right away or don't respond with enthusiasm- she says, "I know you don't want to, but you have to". Which I'm pretty sure is her quoting me when I tell her she has to take a bath and brush her teeth.
We all know how to ask. We all know how to make a request. What we don't always like is the answer to our request. With God our answer will always be what is in line with His will. We don't always have God's will in mind when we ask and sometimes we are disappointed by God's answer because it's not the one we wanted. But be sure of this, God's answers are always better than the ones we create on our own.
When it comes to the word seek, we might not be quite as sure how to do this or what it looks like. One definition for the word seek is to attempt to obtain or achieve something. What are we attempting to obtain? An answer to our request. We ask God for something, and then we try to get an answer.
I have a bad habit of reading a text or email or message from someone and responding to them in my head and never responding for real. I think about the answer, I know what I mean to say to them, but I don't always actually respond. That frustrates people. I know. They've told me. Ever feel like God heard your request and forgot to respond? What do you do in that situation? Get frustrated or continue to seek the answer from God?
The last word here is knock. We know how to knock on a door, right? This is easy. Have you ever knocked on a door that you hoped wouldn't open? Maybe you needed to talk to someone about something and you didn't want to do it. You wanted to drop something off at someone's house, but you hope they aren't home so you can just leave it there?
It's hard to knock on the door that God has for you when you don't desire what's on the other side. We can know God's will and know that he can do it, but it's a whole other thing to want what it is that God has for us. It's a whole different thing to accept an answer from God when it wasn't the one we assumed we would receive.
But Jesus tells us to do all three things. To ask, seek, and knock.
Grammatically, this phrase is used in the present imperative which means we should read the text as, keep on asking, keep on seeking, and keep on knocking. This should be a continuous action for us. As believers, we should always desire the will of God for our lives. God is our father and he takes delight in showing us love. One way he does that is by responding to our "ask." And since he is a loving father, he responds with the answer that best fits his will because his will is always what's best for us. And as any good father would want, God wants us to desire what's best for us, even if it's not what we wanted or planned.
Let's look back at our text at verses 9-11 in The Message version of the Bible
If your child asks for bread, do you trick him with sawdust? If he asks for fish, do you scare him with a live snake on his plate? As bad as you are, you wouldn't think of such a thing. You're at least decent to your own children. So don't you think the God who conceived you in love will be even better?
Late night TV host Jimmy Kimmel put out a challenge years ago for parents to prank their children by telling them the day after they went trick-or-treating that they had eaten all of their kid's candy. The responses from the kids have been all over the place. Some kids have cried, another screamed and threw things, some just got a little sad, one kid let his mom know that she was probably going to have a tummy ache.
More recently I've seen videos of parents tricking their kids by covering an onion in caramel and convincing their kids that they were caramel apples. Of course, the kids don't know that they are onions until they take a bite.
There are all of these videos of parents tricking their kids. Those things are all in good fun.
What the scripture is saying is if your child needed something, you wouldn't trick them by giving them something frightening or inedible when they were actually hungry or in need.
You, even though you're just a human parent, a naturally flawed and naturally sinful person, you wouldn't trick your kids.
You wouldn't keep something good from them. You wouldn't trick them. Right?
Why would we assume God would ever do that to us?
God gives us good gifts. God provides for us. God knows what it best for us- for real. Maybe you've said that to your own children. "This is for your own good."
That's the same thing God is saying to you when he does something for you and you don't like it. When God doesn't answer your prayer in the way you thought he should answer it, and you're mad. God is saying to you "this is for your own good. I've got your best interest at heart. I know what's coming next, just trust me".
Often our prayers are not answered as originally desired because we do not share God's perspective in knowing what is ultimately a good gift for us.
That is something we have to recognize. God is not unfaithful when He answers our prayers in a different way than we asked Him to answer them or in a different way than we expected Him to answer them. God's perspective is different than ours. An answer to prayer is an answer to prayer. We do the same thing to our kids. We give them good things and keep bad things from them because we love them. They might not understand at the time, but we have a different perspective.
The scripture says, "Don't you think the God who conceived you in love will be even better" than we are? Won't God do better than we will do?
"Prayer to a loving Father is effective. The point is not that human persistence wins out in the end, but that the heavenly Father who loves his children will certainly answer their prayer."
God loves you. He wants to answer you. Keep asking. Keep seeking His will. Keep knocking and desire what God has for you, even if it's not what you wanted or expected.
Here we come to our final verse.
12 "Here is a simple, rule-of-thumb guide for behavior: Ask yourself what you want people to do for you, then grab the initiative and do it for them. Add up God's Law and Prophets and this is what you get.
I saw a quote on Facebook this past week that said the following:
"You'll end up really disappointed if you think people will do for you as you do for them. Not everyone has the same heart as you."
That quote had thousands of "likes". If you don't know what the means, it means that thousands of people agreed with that quote. Thousands of people honestly believe that people will not be kind to them, just because that person is kind in the first place.
12 So in everything, do to others what you would have them do to you, for this sums up the Law and the Prophets.
This is the so-called "Golden Rule," one of the most misunderstood statements in the Bible. This statement is not the sum total of Christian truth, nor is it God's plan of redemption. Warren Wiersbe says "We should no more build our theology on the Golden Rule than we should build our astronomy on "Twinkle, Twinkle Little Star."
But "if our judging of others is not governed by this principle, doing to others what we would have them do to us, we will become proud and critical, and our own spiritual character will degenerate.
The golden rule is found in some form or other in a variety of religions, mostly in the negative: "Do not do to others what you would not like them to do to you." Jesus, however, enunciates the rule in a positive form, and he appears to have been the first to do so
Something we have to remember is that this is one giant sermon so, this statement probably refers to the whole of the preceding sermon, not simply to what we are talking about today.
Treat others the way you want to be treated in the areas of adultery, divorce, taking oaths, judging, murder, and giving.
In the light of the whole way of life that Jesus is teaching this is the rule that his people must obey.
At the same time it is very apt in this place; the example of the Father in his goodness in answering prayer is a magnificent incentive to his people to do good to others.
In view of God's generosity to us, treating others in the manner we would like ourselves to be treated is the least we can do.
The teacher Hillel is alleged to have said "Whatever you do not want someone to do to you, do not do to your neighbor. This is the whole Law; the rest of it is just explanation"
When you observe this basic principle will fulfill all the basic principles of the law the way God intended them. This is a law of love.
That's why Jesus says that this phrase or this rule sums up the law and the prophets. God's intention was for us to do everything with an attitude of love.
Last week we talked about the fact that when it comes to judging that it all comes down to our intentions and our motives. That's the same thing that Jesus is say here, and he's letting us know that it applies to so much more than just judgment.
The way that we behave as believers should be rooted and founded in love. When we love God and love the people God created (which means everyone) we are living out the laws that were written in the Old Testament and we are living out the teachings of the prophets.
When you pray, do you pray for the will of God to be done in your life? When you ask for God to do something for you, do you do so with the knowledge that God will answer but that answer will be within his will?
Do you recognize that God's answer is always what's best for you, even if it's not what you wanted?
Do you desire God's will even if it's not your will?
Are you treating others the way you want to be treated? For real.
Series Information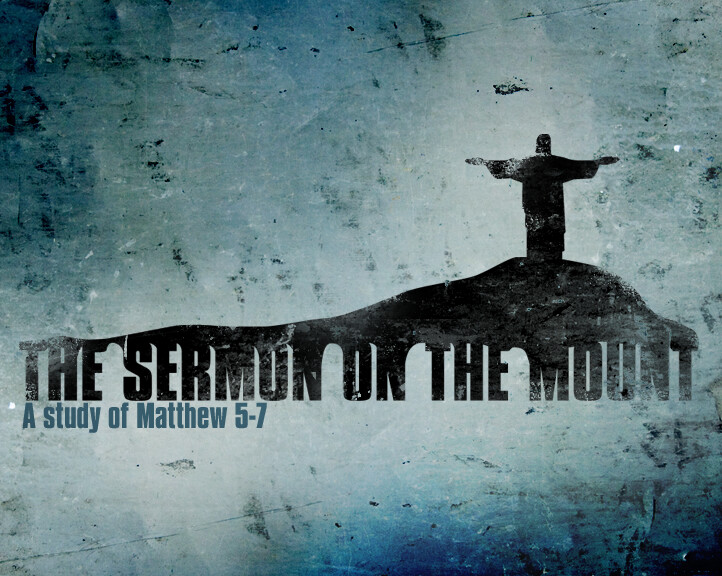 Over the course of three chapters in Matthew (5-7), we read some of Jesus' most challenging teaching. This series will exam this "Sermon on the Mount" section by section to see what we can learn.